5 Critical Things You Must Do Quickly If Your Business Has a Negative Online Review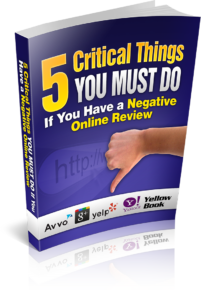 Here is where the review process goes wrong.  People are busy unless your customer is an avid reviewer once they receive your product or service and pay, they consider the transaction complete.  They ordered you delivered, the end.
Local owners struggle to get their happy customers to go online to tell others how wonderful their business is.  Unhappy customers are mad and motivated and more likely to post a bad review than a satisfied customer I to take time to post a good review.
Since the Internet boom, gone are the days of a business's ability to paint over a bad business reputation with advertising and marketing.  Unhappy customers are fighting back and telling the online world how your business screwed up.  Prospective customers are listening and choosing your competitors over you.
What often ends up happening is a good and honest business like yours rocks along over time, doing good business, taking care of their customers but not taking the time to get its happy customers to give positive reviews helping the company to build a solid online reputation and WAM! Then one day your business misses the mark; a customer is unhappy and takes to the internet to post a bad review. Now, when new prospects search for what you sell all they read about your business are bad reviews.
Somehow, we expect our employees to do and will do the right thing, be pleasant and helpful to our customers.  For the most part that's wishful thinking, most don't care. As business owners, we're all guilty of hiring poorly. A local Dallas plumber got a bad review online because the technician relieved himself between the two houses, the home receiving the service and their neighbor. The neighbor saw him, went online and posted a review about the unprofessionalism of the contractor. Stupid! The plumbing company lost business; as a result, both online and from the original customer.  Talk about an expensive leak!
It can be a simple matter like the restaurant serves cold food or a much more serious matter like "this doctor botched my cosmetic surgery."  Both would be considered bad because when dining out, would you want cold food delivered to your table?  And let's not speak of a cosmetic surgery procedure gone wrong!  OMG!  Would YOU patronize a business that had bad reviews?
Here are the 5 Critical things you must do if you have a bad online review. Let's delve into each a bit further.
Respond to the review – make it right
Monitor the internet 24/7 for bad reviews
Fix what's broken in your business that caused the bad review
Get additional customer service training for both you and your employees. Improved customer service will help avoid future bad reviews
Respond to the Review Quickly – Make It Right
If you have a bad review, swift action is critical. The first step is to gather the details of the transaction.  Find out what went wrong.  What made the customer so unhappy that they took to the internet to vent about your business.  Then using our free Bad Response Review Templates and the details you gathered reply online to the review.
Be empathetic, don't get defensive and avoid an online battle at all costs.  You must respond to a bad review correctly. Your response is not only for that unhappy customer to read but for prospective customers who will read it also.  Not responding or responding incorrectly will make matters worse.
Monitor the Internet 24/7 For New Bad Reviews About You
You need to know immediately if a bad review has been posted online about your business.  Please don't wait until you happen to find the review online or someone tells you that he or she read a bad review posted online about your business. Initiate 24/7 reputation monitoring and receive immediate notification if someone leaves a bad review online about your business. Lost revenue from a bad review can add up fast if you don't take immediate action.
If you do receive a bad online review getting an immediate alert helps you to post a quick response and allow you to fix the problem and often save the relationship.  Unhappy customers want to feel that they have received what they paid for and once you make things right, ask and most will either remove or update their review to a more positive one.
Fix What's Broken in Your Business That Caused the Bad Review
Gold Nugget #1. Want to know where your business needs improvement? Listen to what's being said by the unhappy customer who complains or submits a bad review.  They're telling you what's broken in your business.  We find that very often a business's unhappy customers complain about the same issues.
So if you fix the problem, the bad reviews will stop.   You'll have happier customers who'll come back to patronize your business and tell others about you, adding thousands to your bottom-line.
If you don't currently have a line item in your budget titled "customer satisfaction" make one!  It's worth the expense and will yield far higher returns on the investment if you spend money to ensure current customers have an exceptional buying experience each time rather than to advertise to attract a new customer before you do.
That same line item "customer satisfaction" should also be covered explicitly in great detail in your training materials, employee performance reviews and company meetings.  It is not a department it is the foundation your business will either rest on of fall because of.
Get Additional Customer Service Training for Both You and Your Employees
We all are guilty of hiring bad and often so busy putting out fires and getting sales in that excellent customer service takes a back seat. Hoping that your employees are providing excellent customer service is wishful thinking, improvements start with you. Your business reputation is too important to leave it to your employees, the marketing department or worse to chance.
Gold Nugget #2; Learn to hire slow, fire fast and train your employees well
An excellent online reputation delivers presold customers to your door. Take time to brush up on basic customer service skills and provide each employee with them as well.  Build on those skills moving forward. Train your employees on the importance of delivering an exceptional customer experience to every customer, on every sale.
Implement a Simple System to Get YOUR Happy Customers to Review
Create a 5-star online reputation by getting a steady stream of good customer reviews spread across many online review sites each month. A search engine such as Google reward businesses who get regular reviews with higher rankings, don't be fooled by slick salesmen using outdated or questionable tactics promising to bury your bad review below fake ones that they will post about you.  Again, it would help if you had a steady stream of good reviews published over time across many review sites by your actual customers who post using their real email accounts.  Get this wrong and your reviews won't stick or worse your website could get banned by sites such as Google.
A stellar business reputation will separate you from the pack and help you to become the local go-to business in your area.  Neilson, a national consumer survey company, reported in 2011 72% of consumers read and trust customer reviews posted online.
Ignoring bad reviews posted online by your unhappy customers can have devastating results; Negative reviews have caused some businesses to lose so much in revenue that they were forced to close their doors.
The Internet is here to stay and so are online review sites! They offer prime Internet space for your unhappy customers to tell the whole world about your business.
Fixing bad reviews begins with having satisfied customers and getting them to tell others about your business.  SEO, Pay Per Click, Direct Mail, Facebook Advertising, Coupon Mailers.  None of them work anymore if you have bad online reviews; they all drive your prospective customers online to get more information on your business. Even if only to get your business hours, address or phone number, when they search for you, they find you and all of your bad ratings and reviews.
Business owners concerned about their online reputation have to start somewhere; I think this was an excellent place to start.
We hope that you find value in our no-cost tools like "5 Critical Things You Must Do Quickly If Your Business Has a Negative Review".  If it helped you, please share it with other local business owners, they'll thank you.